https://english.alarabiya.net/News/world/2022/03/03/Bangladesh-cargo-ship-off-Ukraine-hit-by-missile-one-killed-Bangladesh-government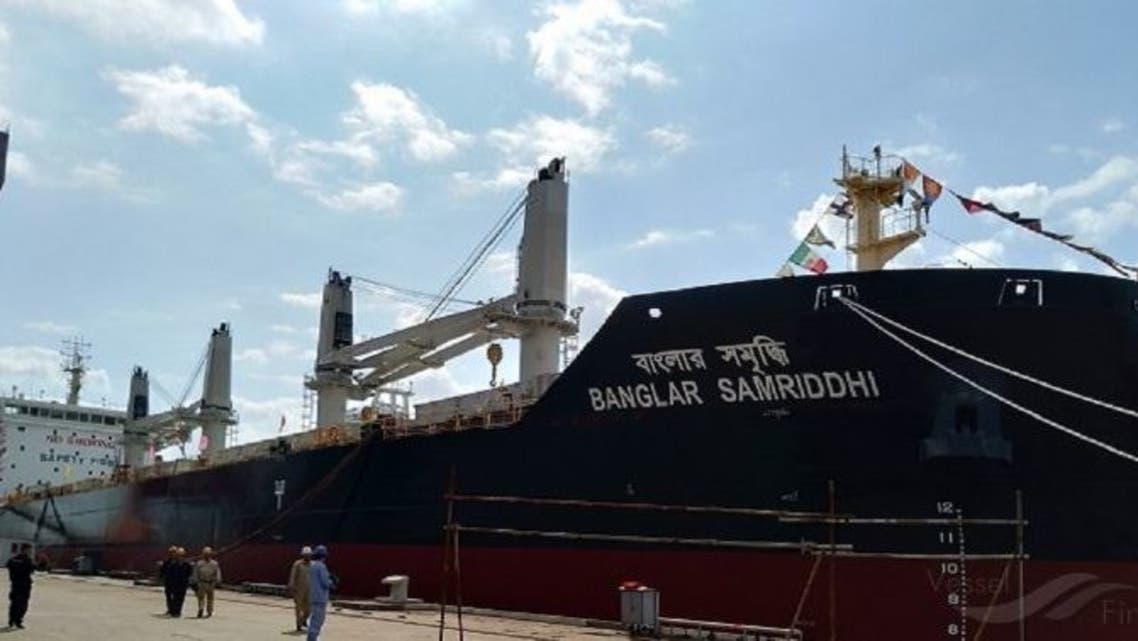 A missile or bomb hit a Bangladeshi owned cargo ship at the Ukrainian Black Sea port of Olvia, killing one of its crew members, and efforts were underway to rescue the others from the vessel, the state-run ship's owner said on Thursday.
For the latest headlines, follow our Google News channel online or via the app.
"The ship came under attack and one engineer was killed," Pijush Dutta, executive director of Bangladesh Shipping Corp, told Reuters.
"It was not clear whether it was a bomb or missile or which side launched the attack. The other 28 crewmen are unharmed," he said without providing further details.
The Bangladesh-flagged Banglar Samriddhi had been stuck at the port of Olvia after Russian invasion of Ukraine began on February 24 and had been hit by a missile, a Bangladesh foreign ministry official said earlier on Thursday.
Video su Twitter
In my earlier tweet i've said a Bangladeshi Ship has been attacked in Olvia Port, Ukraine which caused a life. Here's the footage of attack. pic.twitter.com/N0AQotvULr

— Shakir Imroz (@shakirii14) March 2, 2022
L'attimo in cui la bomba o il missile colpiscono la nave.
Da India Today
Manna dii Syed
18 ore fa
Captain Mujibur Rahman, deputy general manager (chartering and planning) at Bangladesh Shipping Corporation, told The Business Standard, "The ship carrying steel coils reached the Turkish port of Eregli on 14 February from India's Mumbai port. After unloading goods there, the empty ship arrived at Olvia port on 21 February. Clays, raw materials for manufacturing ceramics, were supposed to be loaded into it, but the ship was caught in the Russia-Ukraine war."
bibian baier
1 giorno fa
Now NATO . No Action Talk Only.😂
La stessa zona vista in Google Earth. Si vede chiaramente il porto e lo scalo di Olvia.
Decrizione del porto da Marine Traffic
What kind of Port is this?
OLVIA is a Medium-sized Porto. The types of vessels regularly calling at OLVIA are General Cargo (73%), Bulk Carrier (21%). The last vessel called at this port was LOTSMAN YEMELIANOV, 8d and 14h and 33m and 29s ago. The maximum length of the vessels recorded to having entered this port is 229 meters. The maximum draught is 8.6 meters. The maximum Deadweight is 64214t.
Where is the Port?
OLVIA is located at Black Sea, Black Sea in Ukraine at coordinates N 46° 50′ 05.44″ – E 031° 57′ 12.59″. The official UN/Locode of this port is UAOCT. It is also known as OKTYABRSK,OLVIIA.
What are the current conditions in this Port?
The local time at OLVIA is 2022-03-04 05:04:00 and the time zone is UTC +2. The wind in the port area blows from North West direction at force 5 Beaufort. 0 ships have arrived in this Porto within the last 24 hours. Currently there are 0 vessels in this Port and another 0 vessels are scheduled to make a port call at OLVIA.